Limited Edition Styles
Welcome to our shop! We are all about High Quality, Small Production and Fine Knitting Techniques. Our styles feel soft, cool, luxurious & are knitted with the finest Viscose yarn + spandex.  Its fashion that lasts!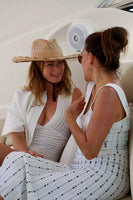 On a daily basis, I look forward to creating styles that highlight femininity. The female form is my inspiration.
My focus is on high quality, comfort and detail! Ultimately women feel sexy, sassy, & classy wearing VIAVAI. My designs make "women appear not disappear" As the late Alber Elbaz quoted.

My goal is to give you a sense of confidence, to make you feel extra special wherever you go. Because when you look good you feel even better! and that's when I know I have succeeded.